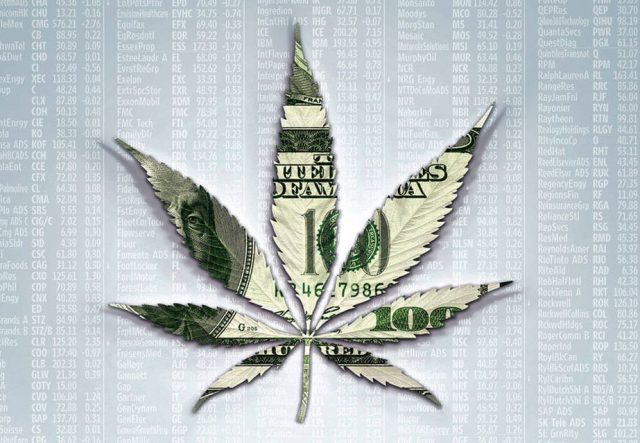 SAN FERNANDO, Calif.—Marijuana is growing like a weed. Since California legalized cannabis, 28 states have done the same thing.
The Truth Behind Its Growth
One reason why marijuana industry stocks are increasing is the favorable opinion and feedback among the public. According to the National Pollster Gallup survey, the percentage of its approval has increased significantly. From 25% in 1995, it reached 60% in 2016. Thus, several states are now legalizing pot usage, whether it is for recreational or medical purposes.
Local governments have also played their roles. Legally planting and selling cannabis provides several new opportunities to collect fees and taxes. In Colorado, the state government garnered $135 million in licensing revenues and taxes in 2015. Meanwhile, California is expecting an increase of $1 billion in revenue because the Prop 64 was passed last November.
Last is the marijuana industry projected growth. According to ArcView, a cannabis research company, legal pot sales reached $6.9 billion in 2016. ArcView is confident that it could reach up to $21.6 billion by 2021. Additionally, an investment firm called Cowen & Co. firmly believes that the sales could grow to $50 billion by 2026.
Marijuana Stocks Provide a Lot of Business Diversity
This reason is what pushes companies to go public. One thing marijuana industry stocks offer that others don't have is business diversity. The industry offers several ways to exploit on cannabis growth.
The most famous marijuana stock today is GW Pharmaceuticals. The company has found over five dozen of cannabinoids. They use these compounds to access the human body's CB receptor system. Currently, their most successful drug experiment is Epidiolex. It is a cannabis-based medicine that is used for treating epilepsy.
The company is waiting for the government's approval for curing children that have severe epilepsy. They're also waiting for European countries to get their consent. That way, they can distribute their products overseas and help more patients. But for the meantime, the company is conducting a new experiment on cannabis-based medicines that will cure cancer.
Similarly, Medical Marijuana gives license to testing and research to medical marijuana businesses. The field also offers consulting and management services, as well as cannabis-based products.
But, the marijuana industry stocks are not only focusing on health and sales. Some firms also do the following things:
Providing marijuana industry banking solutions to cannabis companies.
Producing THC-infused food and beverages.
Creating cloud-based technology to operate PoS and ordering systems for cannabis retailers.
Concentrating on consulting services for marijuana companies.
Giving marketing services.
Making marijuana breathalyzer devices for law enforcers.
Producing innovative products for indoor farming.
Renting cultivation facilities and areas.
This list could go longer. The point is that the marijuana industry isn't only about making sales. It's also about giving opportunities and growth of existing companies and budding entrepreneurs.
Marijuana Stocks Have a Common Theme
Unfortunately, marijuana industry stocks share one thing in common – they're losing their money. The sad part is that this trend will not go away soon.
Some investors blame the INSYS Therapeutics, a sufficient stock, otherwise known as "marijuana stock." However, INSYS created a whopping $55.2 million in sales in the third quarter of 2016 due to Subsys.  Unlike Epidiolex, this isn't a marijuana-based product. Thus, it's quite unfair to call it as a marijuana stock until it makes a decent percentage of sales on Dronabinol-based drugs.
Meanwhile, GW Pharmaceuticals and other companies are expected to lose money for the upcoming years. According to marijuana industry analysis, this trend will continue this year.
One of the primary reasons is that most of the marijuana industry stocks are considered as over-the-counter trading. While they've done their best to improve their reputation, it's still tricky to get accurate information on these companies.
Moreover, most of them are considered as marijuana industry penny stocks. This means that the companies exchange their assets for less than $5 per share. They also have micro-cap valuations. Hedge funds and established investors avoid this trading due to their reputation. According to experts, investing in penny stocks is risky and unstable; therefore, it's best if you don't consider it.
Nonetheless, marijuana industry stocks are competing with the federal government standing firm throughout President Trump's term. White House Press Secretary Sean Spicer had a comment regarding the federal government's role in cannabis enforcement.
According to him, recreational and medical marijuana are two different issues. He also added that the president knows what patients are going through, especially those who have terminal illnesses. Thus, Congress made a bill that prohibits the Department of Justice to go after these people.
However, recreational marijuana is another issue. Because opioid addiction is growing in many states, the last thing we should do is encourage people to use it. There's still a federal law that citizens must obey regarding recreational marijuana usage.
This statement only means that marijuana industry stocks will lose money for the next three years. This might get worse if the government pushes through its plans regarding recreational marijuana.
If this trend continues, along with President Trump's actions on marijuana usage, investing in marijuana industry stocks could lead to a downfall.
References:
https://www.fool.com/investing/2017/02/18/marijuana-stocks-plenty-of-business-diversity-yet.aspx
https://www.fool.com/investing/2017/03/04/marijuana-stocks-are-doomed-if-trump-reneges-on-hi.aspx
http://www.telegraph.co.uk/business/2017/02/07/gw-pharmaceuticals-develop-oncology-portfolio-cannabis-medication/